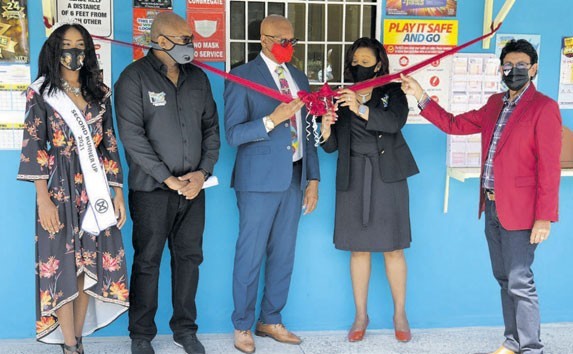 Every year, steel band leaders are at the mercy of corporate T&T, pleading for funds for the National Panorama Competition, uniforms, tuning and arrangement.
But yesterday, NLCB Fonclaire Steel Orchestra took a bold step towards self-sufficiency, opening a Lotto booth and gift shop opposite its panyard along Dottin Street, San Fernando.
Incorporated as a Non-Profit Organisation to allow international sponsorship in 2019, the band registered as an enterprise in 2020 to become the economic hub within the Les Effort East community it occupies.
At yesterday's commissioning managing director, Darren Sheppard said as a band executes its strategic plans, a car wash and bar are among their objectives.
Looking forward, Sheppard said the band wants to acquire all vacant property along Dottin Street as it seeks to expand. He said everything the band does would include the community. He said the opening of the Lotto booth and gift shop already provided jobs.
"The name Fonclaire stands for Fonrose and Claire Streets. I am not knocking anybody; we did not go to the cinema to get our name. The name represents our community. It is who we are and what we are. Fonclaire has always been the engine that drives this community. We want to make it the economic engine, hence the reason for venturing into this business," Sheppard said.
San Fernando Mayor Junia Regrello believes the Fonclaire model is something all steelbands should follow. CAL Skiffle Steel Orchestra, which Regrello leads, applied for a Lotto booth in 2003. However, Regrello said the NLCB rejected its request because there were already several machines along Coffee Street.
"I would suggest that every steelband should have a Lotto outlet because that is how you empower the steel band to create sustainability, and this is something we should really consider," Regrello said.
NLCB's marketing and public relations officer, Susan Worrel first presented the idea of self-sufficiency to Fonclaire. Worrel said that when the band seeks donations, sponsors would also see they are helping themselves.
"Perhaps NLCB Fonclaire can be an example to other steel bands throughout T&T," Worrel said.
So far, the gift shop has snacks and T-shirts with more merchandise to come. From the time the operator turned on the machine, customers were lining up.
The building also pays tribute to the founding members of Fonclaire, including a large picture of the band's late leader Milton "Wire" Austin, the late arranger Ken "Professor" Philmore and Rudin "Redman" Austin with Sheppard.
---
Felmine, Kevon. "Fonclaire Steel Orchestra opens Lotto outlet, gift shop." Trinidad Guardian, Tuesday, March 2, 2021, p. 8.
Photo by: Rishi Ragoonath