Darren Sheppard, managing director of the NLCB Fonclaire Steel Orchestra, is known to be a no-nonsense man with a big heart and far-reaching vision.
He and the band weathered the storm of the 1990 National Panorama controversy when they were bypassed for the title with their rendition of Pan by Storm.
Now they are enduring another type of storm with the COVID-19 pandemic. According to Sheppard, the band is facing up to this latest challenge "knowing that surviving as a creative community under these conditions will be no small task, and still acknowledging the band's ability as being part of a movement to revitalise and reform their physical community."
He said he and other members of the Fonclaire management team are committed to the task of reconnecting the band with its community in various ways, including via social media.
In that regard, their motto: Fonclaire Forever—takes on greater meaning as they set about on the task of "re-energising our existing audience and family, while also welcoming and encouraging new budding enthusiasts" following the launch of taking the #SocialsbyStorm on social media on July 5.
According to the band's public resource officer Abeo Jackson, viewers can expect related posts two to three times weekly.
Sheppard explained that the history of the pan has always been that of resistance, revolution and reform.
"We are simply creating avenues to continue to do just that, especially now. It's sometimes the little things that become beacons of hope for a people," he said.
"Taking the #SocialsbyStorm reminds the community of our rich history as a band and brand, and how it is tied to the people. Just by the play on the hashtag, which is an ode to one of the brightest spots in our musical career and the man who made it possible, Ken 'Professor' Philmore.
"It also spins off from weathering the current COVID-19 storm. Survival and re-emerging stronger are crucial in this moment.
"We are revisiting community-building using pan. A reminder of all the brilliant minds and musicians and other creatives who have emerged from De Hole, a community in San Fernando many may have tried to overlook by virtue of socioeconomic classifications."
Sheppard said there are also plans to "harness the still-untapped potential in our young people."
He added: "The first step in a long vision utilising varied methods, is reaffirming Fonclaire's rank amongst panyards nationwide, actively taking back their role of being hubs of creative energy and community safe-havens.
"The second week in July saw a new and simple approach, with grassroots aesthetic beginning to highlight the history of the band and community, the various arms of the band for all ages and musical experience; how classes can be accessed and upcoming projects."
Also in the works is the long-awaited Fonclaire 55 The Concert, scheduled for Naparima Bowl, as well as expansion of the pan theatre into a fully-digital performance space.
"We've recently become a vendor, which allows for convenient and safe bill payment within the area, with special focus on our elderly," Sheppard said.
There are also plans for virtual classes and performances along with physical and virtual programmes for children, including those offered through the Pan in School programme.
Sheppard, who said he is looking forward to welcoming guests all to the band's virtual and physical safe spaces, added: "We have many exciting continuing and new projects up our sleeves. #FonclaireForever."
Established in 1965, the band got its name from two adjoining streets in San Fernando: Fonrose and Claire.
In 1971, the year of the historic tie in the National Panorama final between Solo Harmonites and CIBC Starlift, Fonclaire, playing a Rudin and Austin arrangement of the Mighty Duke's Carnival in Trinidad, placed fourth and was adjudged People's Choice.
It placed second in 1975 with a Lord Kitchener composition, Spree Simon, and again consecutively in 1989, 1990 and 1991. Fonclaire also placed third in 1986 with another Kitchener calypso, Pan Here to Stay but its most memorable performance in the competition was with Ken "Professor" Philmore's arrangement of Pan by Storm in 1990.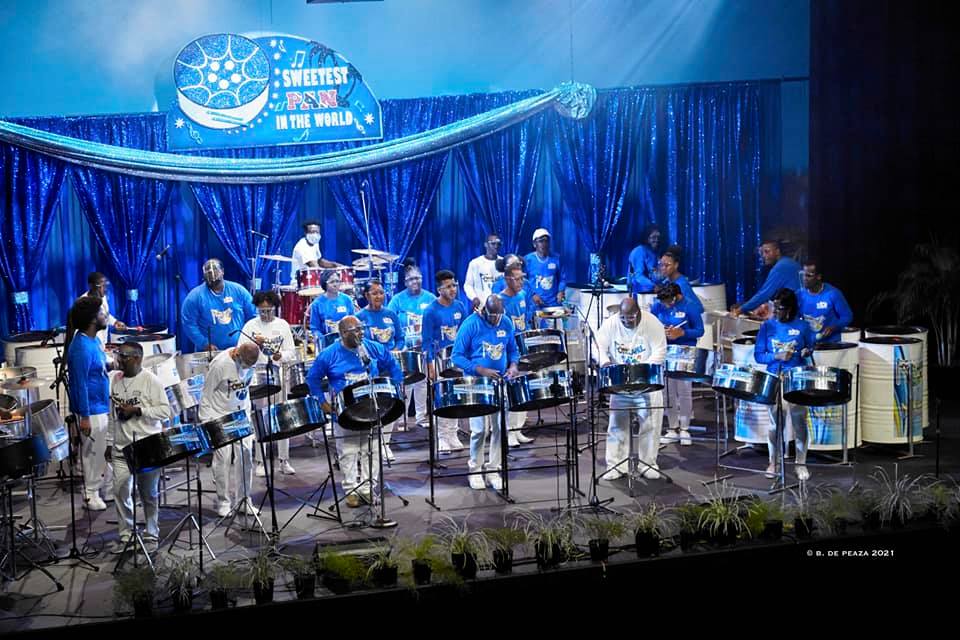 ---
Blood, Sandra L. "Fonclaire set to take social media by storm" Trinidad Guardian, Thursday, July, 15, 2021.